Mederma
Mederma Stretch Mark Cream review
Greaseless and light, Mederma has been touted as an aid to the removal of old and new scar tissue since 1997. All manner of scars can be cured via the use of Mederma, including stretch marks, according to the products manufacturer Merz Pharmaceuticals, LLC. The main ingredients in Mederma, namely, Cepalin is made from the essence of onions which, for whatever reason, is supposed to heal and eradicate scars. Despite recommendations from Doctors for years regarding Mederma's use however, there has been little evidence linking the use of onions or onion components to stretch mark removal.
Another concern is that there are very little in the way of ingredients that have been proven to eradicate skin striae.
Mederma Stretch Mark Cream ingredients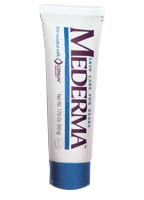 Of concern is the fact that Mederma doesn't appear to have very many ingredients at all, let alone any that have been known to get rid of troublesome skin tears.
The ingredients include:
Water (purified) PEG-4, Allium Cepa (Onion) Bulb Extract, Xanthan Gum, Allantoin, Fragrance, Methylparaben and Sorbic Acid.
Mederma Stretch Mark Cream cost
You can grab a 1.76 ounce tube of Mederma for under $7 dollars. If you like how it works, you can purchase a 50 gram tube for around $30 dollars.
Does Mederma Stretch Mark Cream work?
Perusing online reviews, we found that most people who purchased Mederma were somewhat dissatisfied with their results. One poster stated that the only thing Mederma did was remove a layer of skin from the area where striae was most prevalent. What this tells us is while Mederma does appear to affect some sort of transformation; it may not be a long term or effective one.
Also, Mederma only has eight ingredients with the main one being water. The active ingredient is derived from an onion and has not been conclusively proven to affect scar tissue in any way. With this in mind, one has to surmise that the ingredients in Mederma may be little more than a snake oil.
Our advice? Do your homework and try to locate a reputable stretch mark cream with all natural ingredients that are known for stretch mark removal. Read our stretch mark cream reviews.
We tested all the leading stretch mark removal creams. See which ones are most effective for stretch mark removal and which creams are a waste of money.
.